CatDog
"A Very CatDog Christmas"
Season 2, Episode 40
Production code:
220
Original air date:
November 30, 1999
Written by:
Andrew Gottlieb
Directed by:
Marlene May
Episode chronology
← Previous
Next →
"Freak Show"
"Fire Dog"
"A Very CatDog Christmas" (incorrectly titled "A Very Merry CatDog Christmas" on iTunes) is the 40th episode of CatDog. It is the last episode produced for the show's second season, and also the series' Christmas episode.
Synopsis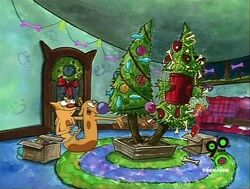 Cat does the unthinkable in attempts to have access to more stuff on Christmas: selling Dog and himself to Rancid for his niece Rancine who has everything except a CatDog. Santa Claus is very angry by this and cancels Christmas entirely. All of Nearburg is outraged when they find out it's Cat and Dog's fault and picket through the town searching for them.
Cat and Dog, stuffed in a box, waits to be opened by Rancine. They are her only Christmas gift this year. When they pretty much become Rancine's prisoner, Cat realizes he was wrong, and they attempt to escape. However, going home isn't the best idea because Winslow, Eddie, and the Greasers are still looking for them, planning to confront them about canceling Christmas. CatDog is totally oblivious to the fact that Christmas was canceled...
Home video releases
DVD
CatDog: Season 2, Volume 2
CatDog: Season 2, Part 2
Out of the Vault Christmas
External links