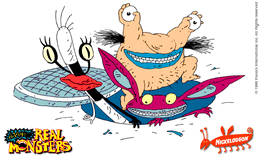 Aaahh!!! Real Monsters is an animated series developed by Klasky Csupo for Nickelodeon, originally premiered in October 1994. The show ran for four seasons, from 1994 to 1997, on Nickelodeon. It was later shown on Nicktoons from 2002 to 2006.
This series revolved around Ickis, Oblina, and Krumm. Most of the episodes were about avoiding getting in trouble at monster school lead by The Gromble.
Episodes
→ Main article: Aaahh!!! Real Monsters episode list
Home video releases
→ Main article: Aaahh!!! Real Monsters videography
External links
Ad blocker interference detected!
Wikia is a free-to-use site that makes money from advertising. We have a modified experience for viewers using ad blockers

Wikia is not accessible if you've made further modifications. Remove the custom ad blocker rule(s) and the page will load as expected.