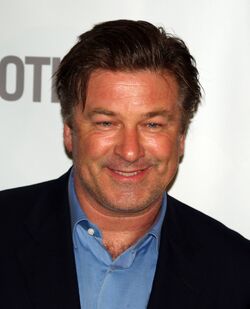 Alexander Rae "Alec" Baldwin III (born April 3, 1958) is an American actor who has appeared on film, stage, and television.
Baldwin first gained recognition through television for his work in the soap opera Knots Landing in the role of Joshua Rush. He was a cast member for seasons six and seven before his character was killed off. He has since played both leading and supporting roles in films such as Beetlejuice (1988), The Hunt for Red October (1990), The Marrying Man (1991), The Shadow (1994), Thomas and the Magic Railroad (2000), Final Fantasy The Spirits Within (2001), The Aviator (2004) and The Departed (2006). His performance in the 2003 film The Cooler garnered him a nomination for the Academy Award for Best Supporting Actor.
Since 2006 he has starred as Jack Donaghy on the NBC sitcom 30 Rock. He has received two Emmy Awards, three Golden Globe Awards, and six Screen Actors Guild Awards. He is the oldest of the Baldwin brothers working in Hollywood.
For Nickelodeon, he voiced an older Timmy Turner in the The Fairly OddParents TV movie Channel Chasers and then went on to voice Dennis in the Nickelodeon Movie The SpongeBob SquarePants Movie.
Ad blocker interference detected!
Wikia is a free-to-use site that makes money from advertising. We have a modified experience for viewers using ad blockers

Wikia is not accessible if you've made further modifications. Remove the custom ad blocker rule(s) and the page will load as expected.