All Grown Up!
Genre:
Family
Country of origin:
The United States Of America
# of episodes:
55
Running time:
approx. 0:22 (per episode)
Original run:
April 12, 2003 - August 17, 2008
Nick.com page
IMDb
TV.com summary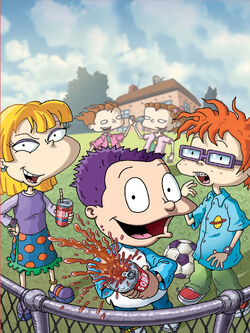 All Grown Up! is the second incarnation in the Rugrats franchise and produced by Klasky Csupo Inc.
The series revolves around the lives of the familiar characters, now ten years later. It premiered in April 2003 as a preview before starting its regular run in late November (although in October, it began its regular run on YTV in Canada).
The show is based on "All Growed Up", the Rugrats 10th anniversary special (aired in 2001), which proved popular enough that Nickelodeon decided to commission a whole series. Production began in September 2002. The principal characters and their traits (as well as their voice performers) have been carried over from the original Rugrats series, with a handful of changes and additions.
Characters
→ Main article: List of All Grown Up! characters
Episodes
→ Main article: All Grown Up! episode list
Home video releases
→ Main article: All Grown Up! videography
Reception
All Grown Up! received mixed reviews from fans of the original series. While they were happy to see their old friends from Rugrats return, they felt that it was too bland and generic and lacked the charm, creativity and feel of the original series, which had a very unique premise. It was also criticized for rewriting the characters' personalities and having many continuity problems and retconning. However, the show does have a cult following.
When the series premiered its regular run, more than 3.2 million viewers, and over a third of all kids watching cable in the United States, tuned in, enough to put it into the 2nd place slot for the week, behind an NFL game on ESPN, and making it the highest-rated premiere in Nick's history (when the sneak peek episoede aired in April, it didn't make the top 15 cable programs for that week, due to the ongoing war in Iraq).
Trivia
During summer 2003, teasers for the show aired.[1] However, the scenes shown were not from actual episodes of the show. The teasers showed:

Tommy filming Chuckie for a video he's making
Lil telling Phil in the cafeteria that he's immature
Kimi ordering pizza to Lil at her pizza place
Angelica and Susie running for class president
Kimi chatting with Chuckie at the Java Lava
Tommy and Dil having a fight
Dil hugging Angelica in front of everyone
Gallery
References
External links
Ad blocker interference detected!
Wikia is a free-to-use site that makes money from advertising. We have a modified experience for viewers using ad blockers

Wikia is not accessible if you've made further modifications. Remove the custom ad blocker rule(s) and the page will load as expected.