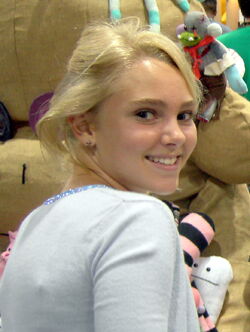 AnnaSophia Robb (born December 8, 1993) is an American film and television actress. She gained prominence in 2005 with starring roles in Because of Winn-Dixie and Charlie and the Chocolate Factory, and starred in Bridge to Terabithia, Race to Witch Mountain, and Soul Surfer.
She played Liza, a fellow scoutmember in the Drake & Josh episode "Number 1 Fan". She was later the voice of Dani Phantom, the female clone of Danny Fenton, in her debut episode of Danny Phantom, "Kindred Spirits". She was replaced by Krista Swan in "D-Stabilized".
Ad blocker interference detected!
Wikia is a free-to-use site that makes money from advertising. We have a modified experience for viewers using ad blockers

Wikia is not accessible if you've made further modifications. Remove the custom ad blocker rule(s) and the page will load as expected.