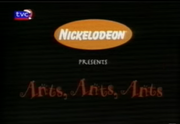 Nickelodeon presents Ants, Ants, Ants
(also entitled as
Antics
) is a 1998 Nickelodeon short. It was mostly airing on
Nick Jr.
, until 2002. In this short, ants are trying to do hula hoops in the ant hill.
Production
The short is made by Pitch Inc., an award-winning company (known for the 1999 short Protest) founded in 1997 by the executive producer of this short, Russell A. Dube[1]. The short's digital supervisor is S.D. Katz, and Joyce B. is responsible for the title design. Music is done by the Marc Black award-nominated company, Black Market Music.[2]
Video
References
Ad blocker interference detected!
Wikia is a free-to-use site that makes money from advertising. We have a modified experience for viewers using ad blockers

Wikia is not accessible if you've made further modifications. Remove the custom ad blocker rule(s) and the page will load as expected.