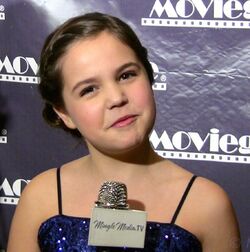 Bailee Madison (born October 15, 1999) is an American child actress. She is most famous for her role in the 2007 film adaptation of Katherine Paterson's Newbery Medal-winning novel Bridge to Terabithia in which she plays May Belle Aarons, the younger sister of Jesse Aarons. She films a webshow with her babysitter and fellow actress, Samantha Droke. Madison also starred in the horror film Don't Be Afraid of the Dark as Sally Hirst.
She first appeared on Nickelodeon as Maxine in the television film The Last Day of Summer. Later, she would star as Mary Alice Johansson in the television film Merry Christmas, Drake & Josh, the girl whose Christmas promise keeps the stepbrothers out of jail.
Ad blocker interference detected!
Wikia is a free-to-use site that makes money from advertising. We have a modified experience for viewers using ad blockers

Wikia is not accessible if you've made further modifications. Remove the custom ad blocker rule(s) and the page will load as expected.