The Loud House
"Bathroom Break!!"
Season 0, Episode 1



The title card from the original version.

Airdate:
June 5, 2014 (online)
Written by:
Chris Savino
Scott Kreamer
Directed by:
Chris Savino
Episode chronology
← Previous
Next →
–
"Slice of Life"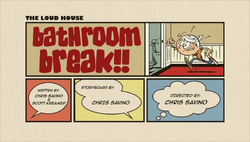 "Bathroom Break!!", originally titled "The Loud House", is the pilot for The Loud House. It was originally produced as part of Nickelodeon's 2013 Animated Shorts Program, and was later re-released with its current title on Nick.com in 2016.
Summary
Lincoln tries to get to the bathroom but has to go through many obstacles along the way.
External links