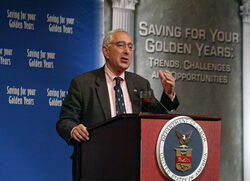 Benjamin Jeremy "Ben" Stein (born November 25, 1944) is an American actor, writer, lawyer, and commentator on political and economic issues. He attained early success as a speechwriter for American presidents Richard Nixon and Gerald Ford. Later he entered the entertainment field and became an actor, comedian, and Emmy Award-winning game show host.
On Nickelodeon, he has voiced Head Pixie, Sanderson, and the other Pixies on The Fairly OddParents, Mr. Giggles in the The Adventures of Jimmy Neutron: Boy Genius episode "Hypno Birthday to You", and a bingo caller on Rugrats.
Ad blocker interference detected!
Wikia is a free-to-use site that makes money from advertising. We have a modified experience for viewers using ad blockers

Wikia is not accessible if you've made further modifications. Remove the custom ad blocker rule(s) and the page will load as expected.