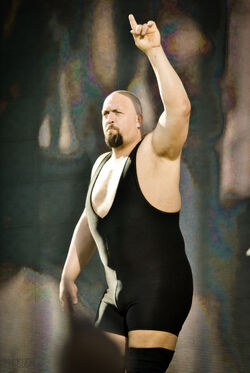 Paul Donald Wight, Jr. (born February 8, 1972), better known by his ring name, (The) Big Show, is an American professional wrestler and actor, currently signed to WWE on its Raw brand.
He was a panelist in a 1998 episode of Figure It Out. That same year, he guest starred in the Cousin Skeeter episode "Skeeter's Suplex".
In 2011, he appeared at that year's Kids' Choice Awards, Worldwide Day of Play, and guest starred in Supah Ninjas as Two Ton Harley in the episode of the same name.
Ad blocker interference detected!
Wikia is a free-to-use site that makes money from advertising. We have a modified experience for viewers using ad blockers

Wikia is not accessible if you've made further modifications. Remove the custom ad blocker rule(s) and the page will load as expected.