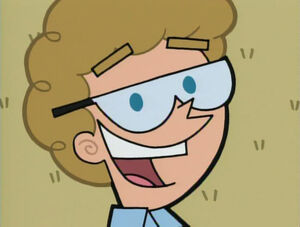 William Henry "Bill" Gates III (born October 28, 1955) is an American business magnate, investor, philanthropist, author, and former CEO and current chairman of Microsoft, the software company he founded with Paul Allen. He is consistently ranked among the world's wealthiest people and was the wealthiest overall from 1995 to 2009, excluding 2008, when he was ranked third. During his career at Microsoft, Gates held the positions of CEO and chief software architect, and remains the largest individual shareholder, with more than 8 percent of the common stock. He has also authored or co-authored several books.
In the The Fairly OddParents episode "Father Time!", it is revealed that Cosmo and Wanda were his fairy godparents as a child in the 1970s. It was their time-traveling godchild 30 years later, Timmy Turner, who, while trying to meddle in his father's past, influenced Gates to invent the internet. His unwished wishes file was later seen in "Escape from Unwish Island". His portrait was seen in his ex-godpaerents' castle in "Hassle in the Castle".
He was voiced by Dee Bradley Baker.