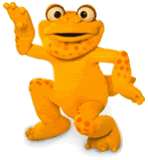 Binyah Binyah Polliwog is a Yellow polliwog from Gullah Gullah Island.
Personality
Binyah Binyah is playful, clumsy, funny, he croaks and makes noises, but can't speak very well. Binyah Binyah is a very good dancer, especially at breakdancing. He is oddly bigger and larger than the human characters.
Trivia
Binyah Binyah was portrayed by Phillip D. Garcia until he was killed in a car accident in 1996, so he was replaced with Justin Campbell for the 3rd season.
Binyah Binyah, in fact is a tadpole.