Breadwinners
Genre:
Comedy

Animation

Created by:
Steve Borst


Gary DiRaffaele

# of seasons:
2
# of episodes:
40
Running time:
11 or 22 minutes
Original run:
February 17, 2014 - present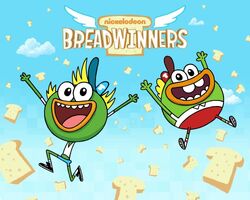 Breadwinners is an American animated television series produced by Nickelodeon. The series was created by Gary DiRaffaele and Steve Borst, and centers upon two anthropomorphic alien ducks named SwaySway and Buhdeuce who run a bread delivery service. In February 2013 Nickelodeon announced that they had ordered a 20 episode season based on the show's pilot episode. A preview of the series, marketed as a "beak peek", aired on February 17, 2014. The series began airing in its regular timeslot on February 22, 2014. On May 8, 2014, it was announced that the series had been picked up for a second season of 20 episodes, although it is one of the worst-rated shows (based on 2014 statistics by IMDb and TV.com).
Plot
SwaySway and Buhdeuce are two carefree alien ducks who fly around in a rocket van delivering bread to their customers. The best friends live together on their home alien pond-based planet, Pondgea, and get into all sorts of adventures. SwaySway is the leader of the duo and even though he does not always use the best judgment, he is a pro when it comes to flying the van. Buhdeuce is a klutzy duck, but he is loyal to SwaySway and has plenty of heart. Together, the friends have fun all the time while flying around delivering bread. When they get into problems, they will "level up" and transform into whatever cool form they need to solve their problems.
Cast
Episodes
→ Main article: Breadwinners episode list
Videos