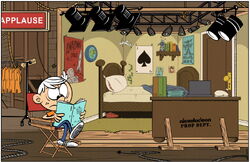 Breaking the fourth wall is a comedy device used in fictional stories in which a character acknowledges the fact that they are a character in a movie or television show, and are actually aware of being such.
There are several ways of breaking the fourth wall; examples include when a character refers to a particular part in a movie or television episode, when a character stops others from performing an occult or criminal act by referring to the fact that it is a "children's movie/show," when a character responds to a real world person who is not physically present (such as the narrator), or when a character talks directly to the viewer.
Listed here are scenes in Nickelodeon shows and movies where such characters break the fourth wall.
Nicktoons
Pig frequently interrupts the show just so he can answer fan mail.
Sometimes, the narrator tends to mess with the characters during the course of the episode.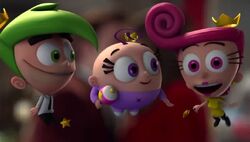 A Fairly Odd Christmas - At the very end of the movie, Wanda directly addresses the audience to inform them, "No fairies were harmed in the making of this movie!"
Lincoln Loud directly talks to the viewer in most episodes, often to set up the plot. Sometimes, another character does this as well.
"Haunted House" - When the ghost reveals himself to Ren and Stimpy, he says "I've been trying to scare you throughout this entire picture."
"Wet Painters" - Patrick is shown holding up the "Three hours later" card, asking "Can ya move it along? I'm all out of time cards."
"Club SpongeBob" - Squidward asks "Why must every 11 minutes of my life be filled with misery?", in reference to a SpongeBob episode's typical length.
"Juice Man" short - At the end, SpongeBob winks at the viewer.
Live-action shows