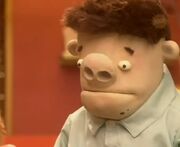 Brent Butcher is a character in Mr. Meaty. He only appeared in "Flinga Flonga," in which he is the main antagonist. In the episode, Brent constantly bullied Josh and Parker as kids, and even stole Parker's Captain Robotic action figure. Afterwards, Brent moved away and grew up to work at Scaunchboro Mall 10 years later, and apologized to Josh and Parker for bullying them in the past and gives Parker his robot toy back.
Gallery
Ad blocker interference detected!
Wikia is a free-to-use site that makes money from advertising. We have a modified experience for viewers using ad blockers

Wikia is not accessible if you've made further modifications. Remove the custom ad blocker rule(s) and the page will load as expected.