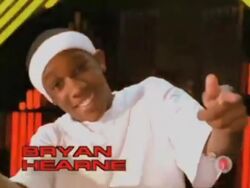 Bryan Christopher Hearne (born September 23, 1988) is an American actor from Staten Island, New York who debuted on a couple minor roles. Things started looking up for the young actor when he landed a guest role on the NBC show Third Watch in 2000, portraying the emotional pre-teen gangster, Kenny who died in the end of the episode.
Hearne then went on to star in the 2001 film Hardball as the loud mouth Andre Ray Peetes, and he became a cast member in the Nickelodeon sketch comedy television series All That during the same year. Bryan was mostly known by his Nick fans for giving life to the characters Zigfree the Taxi Cab Driver, the unborn rapper Lil' Fetus and Mr. Flopples the bunny mascot. He spent two years on All That, but decided to become a rapper at age 14.
Ad blocker interference detected!
Wikia is a free-to-use site that makes money from advertising. We have a modified experience for viewers using ad blockers

Wikia is not accessible if you've made further modifications. Remove the custom ad blocker rule(s) and the page will load as expected.