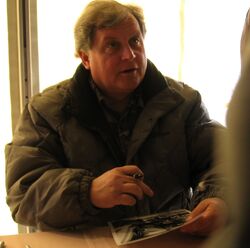 Burt Ward (born Bert John Gervis, Jr.; July 6, 1945) is an American television actor and activist. He is best known for his portrayal of Robin in the television series Batman (1966–68) and its theatrical film spin-off.
In 2010, he voiced a young Barnacle Boy in an episode of Nickelodeon's SpongeBob SquarePants. Adam West, who played Batman in the same series, voiced the young Mermaid Man in the same episode.
Ad blocker interference detected!
Wikia is a free-to-use site that makes money from advertising. We have a modified experience for viewers using ad blockers

Wikia is not accessible if you've made further modifications. Remove the custom ad blocker rule(s) and the page will load as expected.