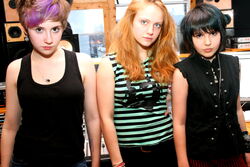 Care Bears on Fire is a Brooklyn, New York-based band that consists of Sophie (vocals and guitar), Izzy (drums) and Jena (bass). The group originally formed in 2005 with member Lucio (bass). The band labels itself as a pop punk group, mixing in alternative and garage rock elements. The band released their first, full length LP, I Stole Your Animal on 28 September 2007, at a release party in Brooklyn. Their second album, Get Over It, was released in July 2009 on S-Curve Records.
They appeared as themselves, performing a song in the episode "True Concert" of True Jackson, VP.
Ad blocker interference detected!
Wikia is a free-to-use site that makes money from advertising. We have a modified experience for viewers using ad blockers

Wikia is not accessible if you've made further modifications. Remove the custom ad blocker rule(s) and the page will load as expected.