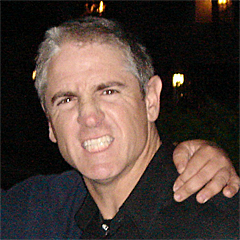 Carlos Jaime Alazraqui (born July 20, 1962) is an American actor, stand-up comedian, impressionist and voice actor. He is best known for his role as Deputy James Garcia on the Comedy Central series Reno 911!. His voice-over work includes the role of Bobbi Fabulous on Phineas and Ferb, the Taco Bell chihuahua, Lazlo in Camp Lazlo, and as Jonathan Weed on Family Guy.
On Nickelodeon, he is best known as the voice of Denzel Crocker and Juandissimo Magnifico on The Fairly OddParents, and Rocko on Rocko's Modern Life.
Nickelodeon credits
Rugrats: Additional voices
Rocko's Modern Life: Rocko, Spunky, Chuck, and Crazy Rabbit
SpongeBob SquarePants: Scooter and additional voices
The Fairly OddParents: Denzel Crocker, Juandissimo Magnifico, the Mayor of Dimmsdale, Chompy, Dolores Crocker, Billy Crystalball, Sheldon Dinkelberg, and additional voices
Avatar: The Last Airbender: Tho and Due
Back at the Barnyard: two llamas
The Loud House: Carlos Casagrande in the episode "The Loudest Mission: Relative Chaos"
Other additional voices on Rugrats, Hey Arnold!, The Angry Beavers, and Oh Yeah! Cartoons
He also played Marcos Del Posey in two episodes of Big Time Rush, and voiced Raphael in the video game Teenage Mutant Ninja Turtles: Out of the Shadows.
External links