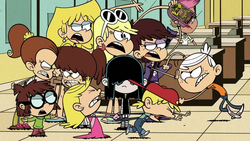 "Cereal Offender" is the second segment of the eighteenth episode of The Loud House.
Summary
Lincoln convinces Rita to let him do the grocery shopping so that he can get himself a box of Zombie Bran cereal. However, when his sisters come to the supermarket with him, he has a hard time keeping them out of trouble!
External links
"Gee, this is harder than I thought."
This article about an episode is a stub. You can help Nickipedia by expanding it.
Ad blocker interference detected!
Wikia is a free-to-use site that makes money from advertising. We have a modified experience for viewers using ad blockers

Wikia is not accessible if you've made further modifications. Remove the custom ad blocker rule(s) and the page will load as expected.