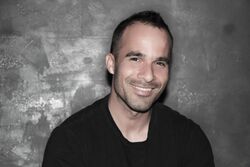 Chris Bickford is a Canadian actor best known for being the final host of You Can't Do That On Television. He's the fellow who always wears his black leather jacket and bears some resemblance to previous host Alasdair Gillis. Chris was also one of the hosts of YCDTOTV's only commercially-produced videotape -- The Worst of You Can't Do That On Television.
According to YCDTOTV.com, Chris is still doing some acting.
Links
Ad blocker interference detected!
Wikia is a free-to-use site that makes money from advertising. We have a modified experience for viewers using ad blockers

Wikia is not accessible if you've made further modifications. Remove the custom ad blocker rule(s) and the page will load as expected.