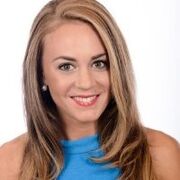 Christina Sally Kirkman (born February 25, 1993) is an American teen actress and comedian. She was best known for her roles in the final two seasons of All That.
In 2003, she entered Nickelodeon's "America's Funniest Kid" competition and won the highly-coveted spot as a regular performer on All That.
As part of her audition, Christina was asked to do a skit in which she met Jay Leno. She had never heard of Leno because she had never stayed up late, so she said, "Who the heck is Jay Leno?" and instead pretended to talk to Leno's bodyguard.
When asked if she thought she was going get into the All That cast, Christina responded, "I thought I had NO chance!" with a laugh.
Christina joined the cast of All That in season 9, making her first appearance in the season's second episode, staying on the show for its final season.
After All That came to an end, Christina returned to Massachusetts where she focused on her studies. In 2015, she graduated from Emerson College in Boston, Massachusetts where she studied broadcast journalism and also participated in several different on-campus productions.
After completing college, Christina moved back to Los Angeles to pursue acting and as of 2016, she completed filming the movie "Night Shadow".
Gallery
Ad blocker interference detected!
Wikia is a free-to-use site that makes money from advertising. We have a modified experience for viewers using ad blockers

Wikia is not accessible if you've made further modifications. Remove the custom ad blocker rule(s) and the page will load as expected.