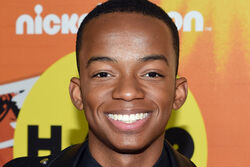 Coy Stewart (born Tyson Coy Stewart on June 24, 1998 in Columbia, South Carolina) is an American actor who is known for his role as Troy on "Bella and the Bulldogs."
He is also known for starring on the TBS sitcom "Are We There Yet?" as Kevin Kingston and the PBS network series "The Electric Company" as Marcus Barnes.
In 2011, Coy won the Young Artists Award for "Best Supporting Young Actor in a Comedy or Drama" for his performance on "Are We There Yet?"
In January 2012, his father published a non-fiction book called "The Unlikely Journey" which chronicles Coy's journey into the entertainment business.
Gallery
Ad blocker interference detected!
Wikia is a free-to-use site that makes money from advertising. We have a modified experience for viewers using ad blockers

Wikia is not accessible if you've made further modifications. Remove the custom ad blocker rule(s) and the page will load as expected.