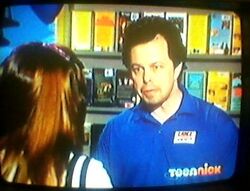 Curtis Armstrong (born November 27, 1953) is an American actor best known for his portrayal as Booger in the Revenge of the Nerds movies, as Herbert Viola on Moonlighting, and as famed record producer Ahmet Ertegün in the film Ray.
He appeared as the "director" of All That in the first sketch of the first episode of the second era of the show, hosted by Frankie Muniz with musical guest Aaron Carter. He "failed" the task of hiring the new cast.
He appeared as the store clerk that allegedly sold pirated movies in the iCarly episode "iStakeout". In actuality, he was making movies about seafaring pirates.
He also appeared as a video store clerk in a Moody's Point episode on The Amanda Show, and as Mayor Izzo in the Nickelodeon television movie Shredderman Rules.
Ad blocker interference detected!
Wikia is a free-to-use site that makes money from advertising. We have a modified experience for viewers using ad blockers

Wikia is not accessible if you've made further modifications. Remove the custom ad blocker rule(s) and the page will load as expected.