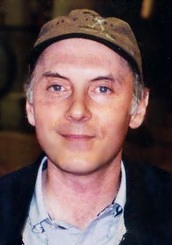 Daniel Louis "Dan" Castellaneta (born October 29, 1957) is an American actor, voice actor, comedian, singer and screenwriter. Noted for his long-running role as Homer Simpson on the animated television series The Simpsons, he voices many other Simpsons characters, including Abraham "Grampa" Simpson, Barney Gumble, Krusty the Clown, Groundskeeper Willie, Mayor Quimby and Hans Moleman.
On Nickelodeon, he is best known as the voice of Grandpa Phil on Hey Arnold!, where he also voiced Willie, the Jolly Olly Ice Cream Man, Nick Vermicelli and various minor characters. The roles of Phil and Vermicelli were reprised for the Nickelodeon Movie Hey Arnold!: The Movie. He also voiced Jonathan Kraskel, assistant to Charlotte Pickles on Rugrats, starting in the episode "Jonathan Babysits" until the series end. Castellaneta also voiced the priest in Rugrats in Paris: The Movie.
Lesser known voice roles for the network include Dave Bishop in four episodes of As Told by Ginger, Professor Crank and Jimmy Neutron's Hulk-esque form in The Adventures of Jimmy Neutron: Boy Genius episode "The N-Men", as well as a corrupted Goddard in The Jimmy Timmy Power Hour.