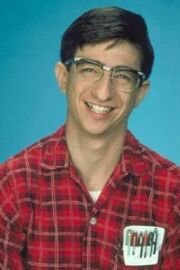 Dan Frischman
(born April 23, 1959) is an American actor, noted for his many roles of playing socially inept "geeks" and "nerds". Frischman's birthdate is often listed as being 1964, as early in his career his acting agent had him practice age fabrication to seem five years younger which made him more eligible for teenaged acting roles. He played Arvid Engen on
Head of the Class
for five seasons. The show also starred
Brian Robbins
and
Dan Schneider
.
He is best known on Nickelodeon as Chris Potter, Kenan Rockmore's boss at Rigby's, a convenience store on Kenan & Kel. In the episode "Oh, Brother", he also played his character's twin brother Rick Potter.
Ad blocker interference detected!
Wikia is a free-to-use site that makes money from advertising. We have a modified experience for viewers using ad blockers

Wikia is not accessible if you've made further modifications. Remove the custom ad blocker rule(s) and the page will load as expected.