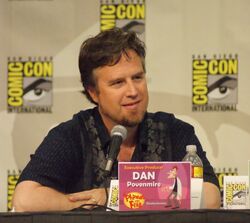 Daniel Kingsley "Dan" Povenmire is an American television director, writer, producer, storyboard artist, and actor associated with several animated television series, best known as the co-creator of the Disney animated television series Phineas and Ferb, in which he also voices the show's villain, Heinz Doofenshmirtz. Povenmire grew up in Mobile, Alabama, where he was a talented art student who spent summers outdoors and making movies. He attended the University of South Alabama before deciding to pursue a film career and transferring to the University of Southern California School of Cinematic Arts.
Povenmire has been a long-time contributor to the animation business, working on several different animated television series, including the Nicktoons Hey Arnold!, Rocko's Modern Life, CatDog, and SpongeBob SquarePants.
Ad blocker interference detected!
Wikia is a free-to-use site that makes money from advertising. We have a modified experience for viewers using ad blockers

Wikia is not accessible if you've made further modifications. Remove the custom ad blocker rule(s) and the page will load as expected.