Danny Phantom
Genre:
Family
Action/Adventure
# of episodes:
53
Running time:
23 minutes per episode
Original run:
April 3, 2004 - August 24, 2007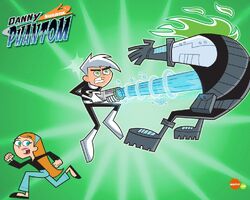 Danny Phantom is an animated television series created by Nickelodeon which debuted April 2004. It is one of the network's superhero shows. The show involves a kid who was half human and half ghost, after a lab accident with his father's unpredictable "Fenton Portal".
Butch Hartman, who also created The Fairly OddParents, created the show.
Characters
→ Main article: List of Danny Phantom characters
Cast
Episodes
→ Main article: Danny Phantom episode list
All regular episodes are 30 minutes.
DVD releases
→ Main article: Danny Phantom videography
External links