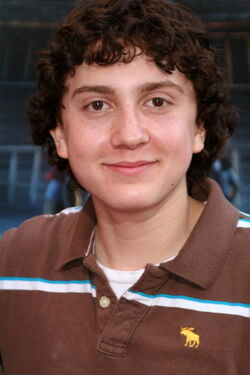 Daryl Christopher Sabara (born June 14, 1992) is an American film and television actor. He is perhaps best known for playing Juni Cortez in the Spy Kids film series, as well as for a variety of television and film appearances, including Wizards of Waverly Place, Father of the Pride, The Polar Express, Keeping Up with the Steins, Halloween, and the reality show America's Most Talented Kids, on which he was a judge.
He has appeared on Nickelodeon twice, both times to promote Spy Kids with co-star Alexa Vega. The first time was in the All That episode that aired September 28, 2002, with Play as the musical guest, featuring Chris Trousdale. The second time was in an episode of the Wild and Crazy Kids revival.
Ad blocker interference detected!
Wikia is a free-to-use site that makes money from advertising. We have a modified experience for viewers using ad blockers

Wikia is not accessible if you've made further modifications. Remove the custom ad blocker rule(s) and the page will load as expected.