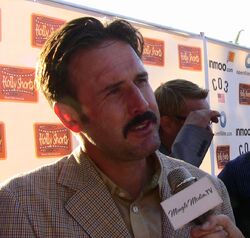 David Arquette (born September 8, 1971) is an American actor, film director, producer, screenwriter, fashion designer, and occasional professional wrestler. A member of the Arquette acting family, he first became known during the mid 1990s after starring in several Hollywood films, such as the Scream series, Wild Bill, and Buffy The Vampire Slayer.
He voiced Mr. Jimmy, Pelswick Eggert's guardian angel on the short-lived series Pelswick.
Ad blocker interference detected!
Wikia is a free-to-use site that makes money from advertising. We have a modified experience for viewers using ad blockers

Wikia is not accessible if you've made further modifications. Remove the custom ad blocker rule(s) and the page will load as expected.