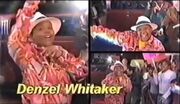 Denzel Dominique Whitaker (born June 15, 1990) is an American actor, playing key roles in the films The Great Debaters and Training Day, as well as TV shows ER, Brothers & Sisters and The War At Home. He later went on to be a featured cast member during the tenth and final season of the Nickelodeon sketch-comedy series All That. He was also in the Disney Channel Original Movie, Dadnapped. He also appeared on The Suite Life of Zack & Cody, as a player on Zack and Cody's basketball team, and in Werner Herzog's Bad Lieutenant: Port of Call New Orleans. Whitaker was born in Torrance, California, the son of Younalanda and Dale Whitaker. He was named after Denzel Washington, a fact he disputed on The Oprah Winfrey Show while promoting the movie The Great Debaters, only to learn later from his father that, in fact, Washington was his namesake. He appeared in the film Abduction.
Ad blocker interference detected!
Wikia is a free-to-use site that makes money from advertising. We have a modified experience for viewers using ad blockers

Wikia is not accessible if you've made further modifications. Remove the custom ad blocker rule(s) and the page will load as expected.