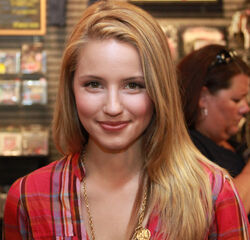 Dianna Agron (born April 30, 1986) is an American actress, singer, producer, director and screenwriter, best known for her portrayal of Quinn Fabray on the television series Glee.
In the Drake & Josh episode "The Great Doheny", she played Lexi, Drake Parker's date that magician Henry Doheny performed a magic trick on while at The Premiere movie theater.
Ad blocker interference detected!
Wikia is a free-to-use site that makes money from advertising. We have a modified experience for viewers using ad blockers

Wikia is not accessible if you've made further modifications. Remove the custom ad blocker rule(s) and the page will load as expected.