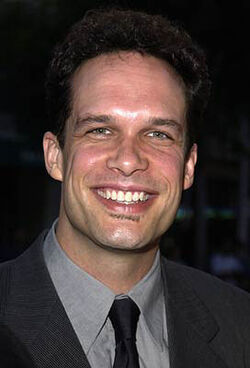 Diedrich Bader (born December 24, 1966) is an American actor and comedian. Bader is best known for his voice role as Batman on Batman: The Brave and the Bold. Many Nickelodeon voice roles for Diedrich Bader include the Rat King on several episodes of The Penguins of Madagascar; Nat Peterson, Harold, Spike the Bully Snail, Brad, Donna who's Mrs. Puff's prison mate, and various characters on SpongeBob SquarePants; and Hundun on Kung Fu Panda: Legends of Awesomeness.
Diedrich Bader is also spotted in live-action Nickelodeon roles such as a guest contestant on Jeff Sutphen's Figure It Out, a random guy in the crowd of people from the Victorious episode "Tori Goes Platinum", and Chief Donker in two episodes of iCarly, "iGot A Hot Room" and "iPear Store".
Ad blocker interference detected!
Wikia is a free-to-use site that makes money from advertising. We have a modified experience for viewers using ad blockers

Wikia is not accessible if you've made further modifications. Remove the custom ad blocker rule(s) and the page will load as expected.