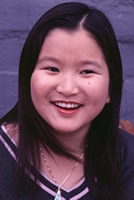 Dionne Quan (born October 20, 1978) is an American voice actress.
She is best known for voicing Kimi Finster in Rugrats in Paris: The Movie before being added to the main series, Rugrats, where she would continue to voice the character until the end of the show's spinoff All Grown Up! She also reprised the role for the third film Rugrats Go Wild. During that time, she landed the role of Trixie Tang on The Fairly OddParents.
Ad blocker interference detected!
Wikia is a free-to-use site that makes money from advertising. We have a modified experience for viewers using ad blockers

Wikia is not accessible if you've made further modifications. Remove the custom ad blocker rule(s) and the page will load as expected.