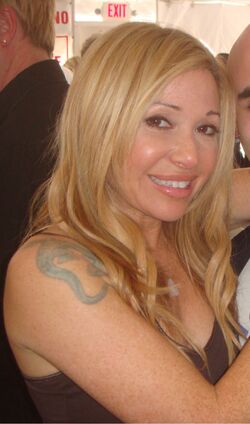 Elizabeth Ann Guttman (born September 11, 1961), better known by her stage names of Elizabeth Daily and E.G. Daily, is an American voice actress, actress, singer-songwriter, and musician. She has voiced television characters such as Tommy Pickles in Rugrats and its spin-off All Grown Up!, Buttercup in The Powerpuff Girls, and the titular role in the live-action feature film Babe: Pig in the City, replacing her fellow Rugrats voice actress Christine Cavanaugh.
Besides voicing Tommy, Daily also voiced Rudy Tabootie on ChalkZone.
In 2003, she released a song called "Changing Faces", which was used in the end credits of Rugrats Go Wild.
Ad blocker interference detected!
Wikia is a free-to-use site that makes money from advertising. We have a modified experience for viewers using ad blockers

Wikia is not accessible if you've made further modifications. Remove the custom ad blocker rule(s) and the page will load as expected.