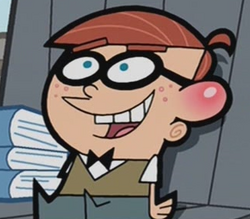 Elmer is nerdy kid who is one of Timmy's "back-up friends" in The Fairly OddParents. He has a huge zit on his left cheek, which he calls Bob.
"Gee, this is harder than I thought."
This article about a character is a stub. You can help Nickipedia by expanding it.
The Fairly OddParents

Characters

Major characters
Timmy • Cosmo • Wanda • Poof • Sparky • Mr. and Mrs. Turner • Vicky • Mr. Crocker • Jorgen • Tootie • Chester • A.J.
Humans
Elmer • Sanjay • Trixie • Veronica • Tad and Chad • Francis • Chip • Remy • Doug Dimmadome • Catman • The Mayor • Chet Ubetcha • Principal Waxelplax • Mr. Bickles • Dinkleberg
Fairies
Mama Cosma • Big Daddy • Blonda • Juandissimo • Binky • Cupid • The Tooth Fairy • The April Fool •
Villains
Anti-Cosmo • Anti-Wanda • Foop • The Pixies • Dark Laser • Norm the Genie • Shallowgrave • Mandie • Magnate • Anti-Sparky
Others
Crimson Chin • Crash Nebula • Mark Chang • Chompy the Goat • Doidle
Cast and crew
Butch Hartman • Mary Kay Bergman • Tara Strong • Daran Norris • Susanne Blakeslee • Grey DeLisle • Carlos Alazraqui • Frankie Muniz • Jason Marsden • Ibrahim Haneef Muhammad • Gary Leroi Gray • Dionne Quan • Dee Bradley Baker • Jim Ward • Jay Leno
Productions
Episodes • Seasons: 1, 2, 3, 4, 5, 6, 7, 8, 9, 10 • A Fairly Odd Movie: Grow Up, Timmy Turner! • A Fairly Odd Christmas • A Fairly Odd Summer • The Fairly Odd Phantom • Video releases
Video games
Enter the Cleft! • Breakin' Da Rules • Shadow Showdown • Clash with the Anti-World
See also
Danny Phantom • T.U.F.F. Puppy • Bunsen is a Beast