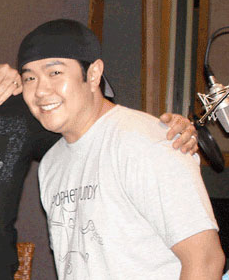 Eric Adrian Bauza (born December 7, 1979) is a Canadian-American voice actor and artist. His notable roles include Stimpy in Spike TV's Ren and Stimpy: Adult Party Cartoon and Slip & Slide D'Peel of Coconut Fred's Fruit Salad Island, Storm Shadow, Destro, and Tunnel Rat on G.I. Joe: Resolute, Razoff from Rayman 3: Hoodlum Havoc and The Professor and Pipo Monkeys in Ape Escape.
He is best known on Nickelodeon for voicing Rodolfo/White Pantera on El Tigre: The Adventures of Manny Rivera' and Foop on The Fairly OddParents. He reprised the role of Stimpy for the Nickelodeon video game Nicktoons MLB. Strangely, his predecessor, Billy West voiced The Gilded Yak, a character also originally from The Ren and Stimpy Show, in the same game (it is unknown why West did not voice Stimpy in that game), he also voiced Buhdeuce on Breadwinners.
Ad blocker interference detected!
Wikia is a free-to-use site that makes money from advertising. We have a modified experience for viewers using ad blockers

Wikia is not accessible if you've made further modifications. Remove the custom ad blocker rule(s) and the page will load as expected.