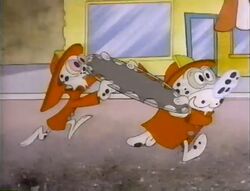 "Fire Dogs" is a piece of music featured on the Ren & Stimpy album You Eediot! Based on the episode of the same name, the song is accompanied by audio clips of dialogue from the episode, but with Ren's lines redubbed by Billy West (as the song was produced after John Kricfalusi was fired).
To promote the release of You Eediot!, a music video of the song was produced, set to clips from "Fire Dogs" and several other episodes of the show. The music video was included on the Ren & Stimpy: On Duty VHS, but is oddly not on any of the DVD releases.
Ad blocker interference detected!
Wikia is a free-to-use site that makes money from advertising. We have a modified experience for viewers using ad blockers

Wikia is not accessible if you've made further modifications. Remove the custom ad blocker rule(s) and the page will load as expected.