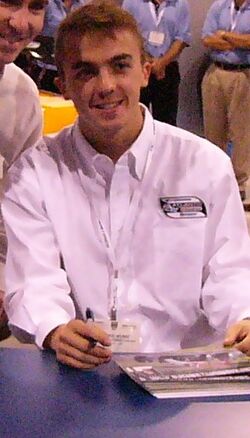 Francisco James "Frankie" Múñiz IV (born December 5, 1985) is an American actor, musician, writer, producer, and racecar driver. He is known primarily as the star of the FOX television family sitcom, Malcolm in the Middle. In 2003, Muniz was considered "one of Hollywood's most bankable teens". In 2008, he put his acting career on hold to pursue an open wheel racing career. He competed in the Atlantic Championship.
He was the original voice of Chester McBadbat on The Fairly OddParents until "Abra-Catastrophe!", the host of the first episode of the second era of All That, which aired January 19, 2002, with musical guest Aaron Carter and the host of its tenth anniversary special,
Ad blocker interference detected!
Wikia is a free-to-use site that makes money from advertising. We have a modified experience for viewers using ad blockers

Wikia is not accessible if you've made further modifications. Remove the custom ad blocker rule(s) and the page will load as expected.