Ad blocker interference detected!
Wikia is a free-to-use site that makes money from advertising. We have a modified experience for viewers using ad blockers

Wikia is not accessible if you've made further modifications. Remove the custom ad blocker rule(s) and the page will load as expected.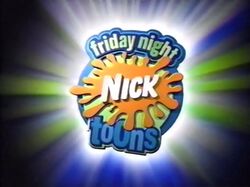 Friday Night Nicktoons aired from September 2002 to mid 2004; its original time slot was 8-10 p.m. Eastern time, expanded to start at 7 p.m. toward the end of its run. It generally aired only from September through May, but became Prime Time Nicktoons for the summer of 2004. The block was possibly made to compete with Cartoon Network's Cartoon Cartoon Fridays block.
2002-2003
When Friday Night Nicktoons (FNN, for short) first aired, it took place in a CGI-animated building loosely based on Nicktoons Animation Studios in Hollywood. It was hosted by the show's logo, a shape-shifting Nick logo inside a blue ring. The logo was assisted by mechanical arms that ended in Nick Jr.-glove-shaped hands.
Characters from all Nicktoons up to the block's creation could be spotted in the intro sequence, but only the following had scheduled time slots in the block:
Prime Time Nicktoons
When Friday Night Nicktoons first aired as Prime Time Nicktoons (PTN, for short), it didn't have FNN shorts as the "We'll be right back" and "Now we're back" segments. Instead, it just showed the Nick logo part of the FNN logo shape-shifting. The programs were as follows:
2004 Info
The new FNN took place inside a vacant spaceship. The programming was extended by one hour (from 8-10 to 7-10), with the 9-10 segment used as a new time slot for SpongeBob SquarePants. It was described by the new female announcer from PTN as "the place to catch all your favorite cartoons," including: