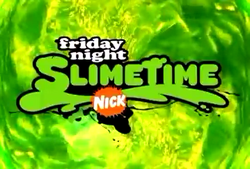 Friday Night Slimetime was a block on Nickelodeon. Unlike Slime Time Live, its segments were prerecorded. It lasted for two back to back seasons and was hosted by Lil' JJ and Chloe Dolandis (who had previously hosted Nickelodeon Splat! on Nickelodeon). Nickelodeon had a talent hold on Lil' JJ and was forced to give him a show to finish out his contract. Because of this, Dave Aizer was brought on board as a writer and also occasionally announced the prizes. The most common prizes on it were either a bicycle or athletic balls. This ran from September 23, 2005 to March 24, 2006.
Ad blocker interference detected!
Wikia is a free-to-use site that makes money from advertising. We have a modified experience for viewers using ad blockers

Wikia is not accessible if you've made further modifications. Remove the custom ad blocker rule(s) and the page will load as expected.