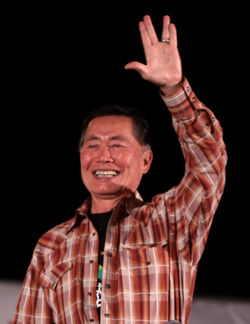 George Hosato Takei Altman (born April 20, 1937) is an American actor, best known for his role in the television series Star Trek, in which he played Hikaru Sulu, helmsman of the USS Enterprise. He is a proponent of gay rights and active in state and local politics as well as continuing his acting career. He has won several awards and accolades in his work on human rights and Japanese American relations, including his work with the Japanese American National Museum.
He played Shank in three episodes of Nickelodeon's Space Cases, voiced Kyo Heyerdahl in two episodes of Hey Arnold!, the Warden in the Avatar: The Last Airbender episode "Imprisoned", the tranquilizer in an episode of The X's, the Seventh Samurai in an episode of El Tigre: The Adventures of Manny Rivera, and currently plays the grandfather, affectionately known as "Hologramps" on Supah Ninjas.
Ad blocker interference detected!
Wikia is a free-to-use site that makes money from advertising. We have a modified experience for viewers using ad blockers

Wikia is not accessible if you've made further modifications. Remove the custom ad blocker rule(s) and the page will load as expected.