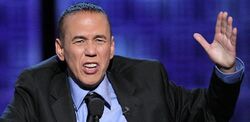 Gilbert Gottfried (born February 28, 1955) is an American actor, voice actor and stand-up comedian, best known for his trademark comedic persona of speaking in a loud, grating tone of voice. He has played numerous roles in film and television, perhaps most notably voicing the parrot Iago in Disney's Aladdin (1992), and co-starred in the Problem Child movies. He is also known for voicing Digit in the children's cartoon/educational math-based show Cyberchase and formerly the Aflac duck until comments he made in regards to the 2011 Japanese tsunami.
For Nickelodeon, he has voiced Jerry the Belly Button Elf on The Ren & Stimpy Show, played Roy in an episode of Are You Afraid of the Dark?, voiced El Cerdo on El Tigre: The Adventures of Manny Rivera, a Barn Buddy in an episode of Back at the Barnyard, and Kraang Subprime on Teenage Mutant Ninja Turtles. His most notable role on the network was as Dr. Bender and his son Wendell in a few episodes of The Fairly OddParents.
Ad blocker interference detected!
Wikia is a free-to-use site that makes money from advertising. We have a modified experience for viewers using ad blockers

Wikia is not accessible if you've made further modifications. Remove the custom ad blocker rule(s) and the page will load as expected.