Harvey Beaks



Official logo

Genre:
Children's animated comedy
Fantasy
Created by:
C.H. Greenblatt
Directed by:
Derek Evanick
Diana Lafyatis
# of episodes:
26
Running time:
22 minutes
(11 minutes per segment)
Original run:
March 29, 2015[1] - present
Nick.com page
IMDb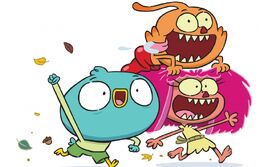 Harvey Beaks (formerly titled Bad Seeds[2]) is an American animated series created by C.H. Greenblatt for Nickelodeon. The series premiered on 29 March 2015 and it features the voices of Max Charles (known for Mr. Peabody and Sherman), Angelina Wahler, Jackson Brundage, Kerri Kenney-Silver, and Scott Adsit.
On March 1, 2017, the show moved to the sister network Nicktoons.
Synopsis
Follows Harvey, a mild-mannered bird, and his best friends, Fee and Foo, two imps, where together, they all seek adventure and mischief in the magical forest they call "home".
Cast
Production
Greenblatt pitched the idea to Nickelodeon, under the title Bad Seeds, and an 11-minute pilot was commissioned in 2012.[3] On 26 September 2013, the show was picked up by the network.[4]
Episodes
→ Main article: Harvey Beaks episode list
Trivia
C.H. Greenblatt was previously the storyboard artist and writer of SpongeBob SquarePants. He recently worked in The SpongeBob Movie: Sponge Out of Water as the film's storyboard punch-up.
In addition to being Greenblatt's first show for Nickelodeon, this show marked the first time since 2005 he worked for the network. After SpongeBob, he went to create Chowder for Cartoon Network in 2007.
Images
Videos
References
See also
Ad blocker interference detected!
Wikia is a free-to-use site that makes money from advertising. We have a modified experience for viewers using ad blockers

Wikia is not accessible if you've made further modifications. Remove the custom ad blocker rule(s) and the page will load as expected.