Hey Arnold!: The Jungle Movie
Directed by:
Raymie Muzquiz
Stu Livingston
Produced by:
Donna Castricone
Written by:
Craig Bartlett
Joseph Purdy
Lisa Groening (story)
Laura Sreebny (story)
Music by:
Jim Lang
Editing by:
Kent Beyda
Release date:
November 24, 2017
Running time:
Approximately two hours
Official website
IMDb profile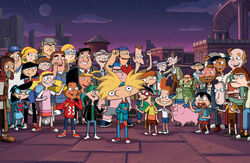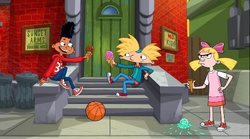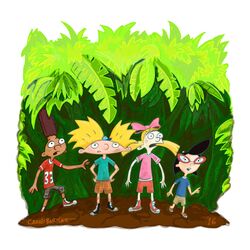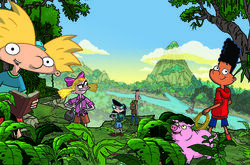 "And now, a look into your future."
This article is about a

Nickelodeon

show, movie, episode, or product that has not yet premiered or been released. Information may change as the release date nears.
Hey Arnold! The Jungle Movie is an upcoming two-hour made-for-TV film based on Hey Arnold!, intended to serve as the show's series finale. The movie's storyline, taking place about two years after the events of "The Journal", is intended to resolve the series' unanswered questions, such as the whereabouts of Arnold's parents. Originally intended as a theatrical film, it was initially shelved in 2003, before eventually resuming production in 2015. This will be the second Nickelodeon revival movie (following the Legends of the Hidden Temple movie) and the first one based off of a Nicktoon.
The movie will premiere simultaneously on Nickelodeon, Nicktoons, and TeenNick at 7:00 PM EST on November 24, 2017. As a lead-in to the premiere, the NickSplat block on TeenNick will also run a marathon of every episode of the show from November 17th through the 24th.
Summary
Hey Arnold! The Jungle Movie takes kids on the field trip of a lifetime: action packed and full of adventure! They'll join Arnold on a quest in which he'll try to achieve his ultimate dream and finally find his missing parents. It all starts when Arnold and his classmates take a trip to San Lorenzo, Central America, which, coincidentally, is the last place Arnold's parents were seen. Their trip takes a turn when pirates kidnap Arnold and his friends! From there it's one jungle hazard after another, and the gang must put their heads together to get out of danger. As the leader of the journey, Arnold must make sure he and his friends survive safely, all while working towards a reunion he's dreamed of his whole life.
Production
The film's development dates back as early as 1998, after Hey Arnold! was renewed for a fourth season. Creator Craig Bartlett was offered to develop two feature films based on the series, one that would premiere as a direct-to-video or made-for-TV film, the other being a theatrical film. He decided that the made-for-TV film would be made as a 3-part episode titled Arnold Saves the Neighborhood, while the theatrical film, which became known as The Jungle Movie, would serve as a follow-up to the episode "Parents Day". However, Nickelodeon decided to release Arnold Saves the Neighborhood in theaters as Hey Arnold!: The Movie, and also asked Bartlett to produce a special 1-hour episode of the show, titled "The Journal" to serve as a lead-in to The Jungle Movie. However, Hey Arnold!: The Movie turned out to be a box-office failure, and although Nickelodeon still wanted to make The Jungle Movie, Bartlett left the network to work on a pilot/TV movie for Cartoon Network, called Party Wagon, resulting in the show being cancelled.
In subsequent years, Bartlett shared certain details about The Jungle Movie to the fans. In 2009, online petitions were made to have The Jungle Movie given the green light, and the series soon experienced a resurgence in popularity when reruns of it began airing on The '90s Are All That on TeenNick. Bartlett returned to Nickelodeon in 2012, and revealed two years later that he and the network executives were discussing the possibility of rebooting the series. Justin Shenkarow, the voice of Harold, also revealed that Bartlett and Nickelodeon were in talks for greenlighting The Jungle Movie.
Finally on November 23, 2015, Nickelodeon announced that a Hey Arnold! TV movie, intended to resolve the cliffhanger from "The Journal", was in the works, implying that the Jungle Movie was back in production.[1] Craig Bartlett later confirmed on March 2, 2016, that the Jungle Movie had indeed been greenlit as a two-part, two-hour movie, set to premiere in November 2017. It was later confirmed that nineteen of the show's original voice actors would be reprising their roles. Arnold and Gerald's original voices, Lane Toran and Jamil Smith, have also been confirmed to return, voicing different characters, while Arnold and Gerald are now voiced by Mason Vale Cotton and Benjamin Flores Jr., respectively, and Alfred Molina will be voicing the villainous La Sombra.[2]
Nickelodeon unveiled a first look at the film as part of the "Happy Happy! Joy Joy!: 25 Years of Nickelodeon Original Animation" panel at the 2016 San Diego Comic-Con. The following year's convention featured a four-minute preview clip.
In an interview with Craig Bartlett, he stated that if this two-part special does well, it could potentially be a pilot for a new revival series. He also stated that even if it did not revive the series, his plan would be to continue Hey Arnold! in a series of graphic novels, much like Avatar: The Last Airbender and The Legend of Korra.
Voice cast
New voice actors
Returning voice actors
Gallery
Videos
Trailers
Promotional/Other
References
External links
Ad blocker interference detected!
Wikia is a free-to-use site that makes money from advertising. We have a modified experience for viewers using ad blockers

Wikia is not accessible if you've made further modifications. Remove the custom ad blocker rule(s) and the page will load as expected.