"House Music" is the first segment of the seventeenth episode of The Loud House.
Summary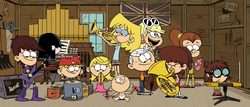 The kids decide to form a band for their act in the talent show at the Family Fun Fair, but when Luna finds out that Mick Swagger is scouting for talent at the fair, she loses sight of what's important.
Notes
External links
Ad blocker interference detected!
Wikia is a free-to-use site that makes money from advertising. We have a modified experience for viewers using ad blockers

Wikia is not accessible if you've made further modifications. Remove the custom ad blocker rule(s) and the page will load as expected.