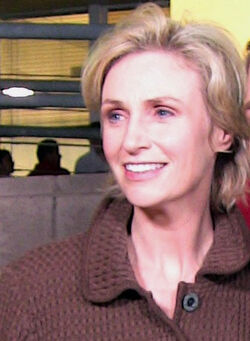 Jane Marie Lynch (born July 14, 1960) is an American comedian, actress and singer. Since 2009, she has played the role of Sue Sylvester in the Fox musical-comedy series Glee for which she has won an Emmy Award and a Golden Globe Award. She has also played roles in comedies such as Best in Show, The 40-Year-Old Virgin and Role Models, and is also known for her recurring roles as lawyer Joyce Wischina in The L Word, Dr. Linda Freeman, Charlie's sarcastic therapist on Two and a Half Men and as Spencer Reid's mother, Dr. Diana Reid on Criminal Minds.
Her first Nickelodeon role came uncredited as the realtor in the Nickelodeon Movie Lemony Snicket's A Series of Unfortunate Events. In 2009, she starred as Ms. Hulka in the original movie Mr. Troop Mom.
She later guest-starred on iCarly as Pam Puckett, the previously-unseen mother to Melanie and Sam Puckett, in the episode "iSam's Mom".
Ad blocker interference detected!
Wikia is a free-to-use site that makes money from advertising. We have a modified experience for viewers using ad blockers

Wikia is not accessible if you've made further modifications. Remove the custom ad blocker rule(s) and the page will load as expected.