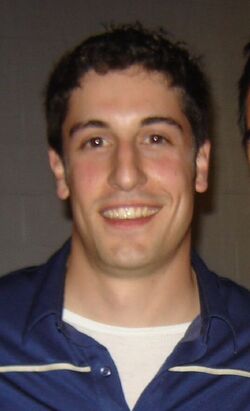 Jason Matthew Biggs (born May 12, 1978) is an American actor who is best known for his role as Jim Levenstein in the American Pie quartet of teen comedy films.
He was the original voice of Leonardo in Nickelodeon's Teenage Mutant Ninja Turtles cartoon. He departed the role after the second season's 19th episode.
Any comments left on this page regarding the actor's recent behavior will be deleted. This wiki is is not affiliated with Nickelodeon and any such comments would not be heard by them. Concentrate on the positive aspects of his performance as the voice of Leonardo.
If you wish to discuss the actor's behavior, a separate blog has been created where you can do so.