Jeff Bennett
Comments

0
2,100pages on
this wiki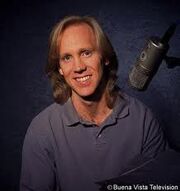 Jeffrey Glenn "Jeff" Bennett
(born October 2, 1962) is an American voice actor, best known as the voice of Johnny Bravo in the series of the same name. He is also known for voicing Petrie in
The Land Before Time
series from the second film onward and the father in the hit Cartoon Network series
Dexter's Laboratory
.
He has done a lot of work for Nickelodeon programs as well. On El Tigre: The Adventures of Manny Rivera he voiced Sergio and Senor Siniestro. On Fanboy and Chum Chum, he voices Boog, Mr. Mufflin, Duke, Dr. Acula, Mist Monster, The Dollarnator, the Secret Shopper, and Manartica. On Tak and the Power of Juju, he voiced Chief Zogsnob, Traloc, and Gremlin Juju. On The Adventures of Jimmy Neutron: Boy Genius, he voiced characters such as Dr. Sydney Moist and Travoltron.
He voices Dorkus on Planet Sheen, Keswick, Larry Ollie and Renton on T.U.F.F. Puppy, and Kowalski on The Penguins of Madagascar.
He also voiced The Man with the Yellow Hat from the 2006 TV series, Curious George.