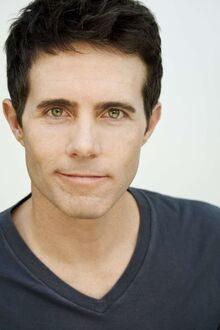 Jeremy Mark Rowley (born June 12, 1978) is an American character actor and comedian. He has appeared in a number of television shows and movies, often portraying somewhat "ballistic" characters, especially on television shows.
His most notable such character is Lewbert the doorman of the Bushwell Plaza Apartments on iCarly. He is the target of the recurring "Messin' with Lewbert" segment of the webshow.
Prior to that, he played several bit characters, such as a disgruntled Blockblister customer and the Little Crazy Hat Man, on The Amanda Show and played a robber during an "Ask Ashley" sketch on All That.[1] He is the voice of Bunsen on Bunsen is a Beast.